INDIETRO
LIMS, the digital revolution of a laboratory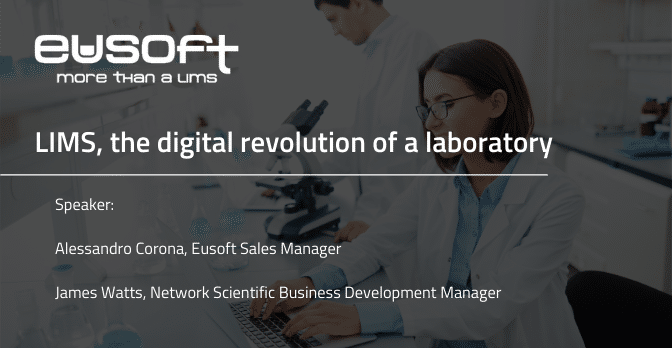 LIMS (Laboratory Information Management System) can be considered a key success factor to manage efficiently modern laboratory's activities and operations. The LIMS software is not a simple tracking tool or a workflow controlling system. Modern Laboratory Information Management Systems are able to manage laboratory's workflows, to provide data insights and to facilitate regulatory compliance.   
2020 and the global pandemic have demonstrated the real need for digital transformation across all type of industries in order for a business to survive on the market, and the growing emerging technologies, such as artificial intelligence and machine learning, are strengthening the companies' competitiveness. Time and data-driven decisions are crucial to establish the leadership of the market.  
Moreover, the pandemic has driven the need for businesses to adopt digital working practices. Going digital enables people who do not need to be a specific site to continue working productively. For scientific companies, use of a LIMS which is cloud based and allows access from anywhere on devices including tablets and phones enables certain people to work safely from home rather than being furloughed.
As companies, scientific laboratories need a strong digital transformation strategy as well based on processes' automatization and efficient workflows. A LIMS can help reaching these goals, providing digital continuity within all the organization.  
Having secure accessible data is vital if a laboratory is to perform efficiently and deliver value. Science tends to be collaborative, and data almost always needs to be shared, either within an organization or externally. The use of a LIMS makes this fundamentally easier and more efficient, particularly in these times when having people working together in proximity is not always desirable. Use of a LIMS with remote access enables working from home in lots of cases. LIMS also streamlines and automates reporting, particularly useful where a company is providing outsourced analysis for a client. Automation of reporting enables scientists/technicians to spend more time at the bench – means higher testing capacity and therefore greater potential for revenues.
If you want to know more about this topic, do not miss our interview to James Watts, Business Development Manager at Network Scientific, click below to watch the video!